History of Driving Schools in Indiana
Ever since the State of Indiana first started requiring driver's licenses and taking a driver's examination in 1929, traffic tickets have been issued and become a large part of the driving world. Along with the development of examinations to get your driver's license, driving schools in Indiana have also grown to help motorists remove traffic citations and keep their driving record clean. Indiana driving school courses also allow drivers to re-instate their license if it has been suspended.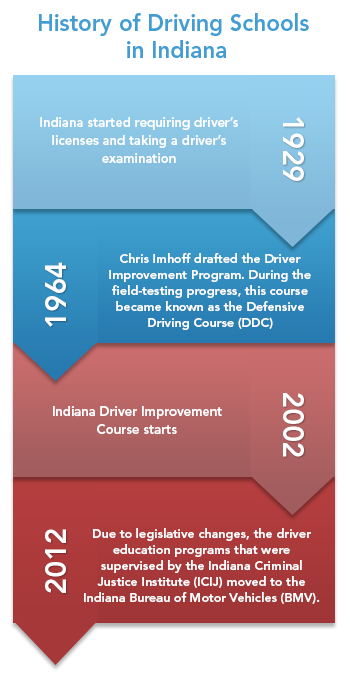 The Beginning
Although the first Defensive Driving Course Instructor's Association was formed in California in 1971 and not Indiana, Indiana soon followed suit. When traffic violators needed to remove traffic citations back in the day, they would have to attend a classroom course for four (4) straight hours. These driving school Indiana programs could be seen similar to that of a high school class. Each Indiana driving school classroom course was taught by a certified instructor and, in general, was not the most entertaining classes to attend.
Advancement of Driving School Indiana
Years after classroom courses began, the State of Indiana realized that driver improvement and driver safety courses needed to be more convenient for motorists. This is how home study courses started. These courses were completed either by workbook or DVD and allowed violators to take the program from the comforts of their own homes. This form of Indiana driving school proved to be user friendly, causing more motorists to choose this form of the course over the traditional classroom method.
Online Driving Schools in Indiana
The Internet boom brought about many new innovations. One of those advancements was online traffic school and driver safety programs. The first state to have online traffic school approved was the State of California in 1996. Soon after, however, many states realized the wonderful benefits of the online program and also began approving online courses. With online options now available, driving schools in Indiana took off. Our very own Indiana Driver Improvement course started in 2002 and has been helping millions of drivers ever since. Taking the course online has made home study programs more convenient than ever before.
A Quick Glance: Driving School Indiana Online Course
With online courses becoming the most fitting way for motorists to participate in driver safety, it's not a surprise that online driver improvement is the first choice of many. When you take an Indiana Driver improvement course you are able to:
Contact us 24/7!
Log off and on as you please. Your progress is saved automatically!
Retake any portion of the course if you need to. Unlimited chances!
Much more!
The driver safety program is here to make fulfilling your driver improvement requirements as simple as can be, while also being enjoyable.